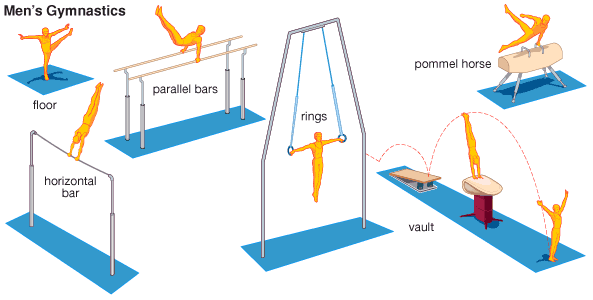 You think football is tough? Try being the master of six pieces of apparatus, each different to the other and requiring a combination of strength, mobility, endurance, flexibility, body control and co-ordination. 
Role models like three-time Olympic medalist Louis Smith began the sport at a young age, drawn to the thrill of learning new 'tricks', being with his friends and keeping out of trouble. Sound familiar?
With loads of physical activity, balanced with fun and excitement to test the craziest of thrill seeker, Men's Artistic Gymnastics has something to keep every lad challenged:
Floor Exercise (FX)
The 12 X12 metre sprung floor area allows the gymnast to reach incredible heights following a series of explosive and power acrobatic and tumbling skills. Coming back down to earth is only half the fun!
Pommel Horse (PH)
Standing 1.15 metres from the floor, the pommel horse is one of the hardest pieces of men's apparatus to master.
A good pommel horse routine will demonstrate smooth continuous circular and pendulum type swings, double leg circles and scissor movements. The pommel horse is a piece of apparatus not for the feint-hearted.
Rings (RG)
To master the rings a gymnast needs incredible strength, balance and body tension. Suspended 2.80 metres from the floor, there is little room for error.
Ring routines include a variety of movements demonstrating purse strength, support and balance. Gymnasts often perform a series of swings and holds with both forward and backward elements. 
Vault (VT)
Imagine charging 25 metres towards a 1.35 metre vaulting table, springing from the top and landing within a set of parallel lines on the other side. This is the task facing the gymnast wishing to master the vault.
The combination of a fast run and approach to the spring board, quick transition to the vaulting table and explosive take-off should see the gymnast catapult themselves sky high in preparation for a controlled landing. 
Parallel Bars (PB)
If you thought swinging and balancing on one bar was hard enough, try negotiating two. The Parallel Bars stand 2.00 metres from floor and 'give' under the gymnasts weight to provide for some crazy combinations of skills seen both above and below the bars.
Horizontal (High) Bar (HB)
Perhaps the most spectacular of the men's apparatus, the horizontal bar stands 2.80 metres from floor and sees the gymnast turn multiple swinging circles, daring release and catch elements and tightly wound up dismounts that defy the imagination.
Gymnasts perform continuous clean swinging movements and must not touch the bar with their body. Complex grip changes add variety and risk to routines.